Pilot's watches are very well known and recognized as being backed by a great brand, but not all of them are of the same quality.
Aviator is one of the most famous Russian watch brands internationally, but its designs don't always come from the same factory.
The Aviator brand is owned by Volmax, one of the most important Russian watchmakers, who also owns other well-known Russian brands such as Buran and Sturmanskie.
However, the company may occasionally transfer the usage rights to its trademarks. This means that Aviator watches are not always made by Volmax.
As a result, not all models offer the same quality, even for officially licensed products.
For this reason, in this post we will show which are the best Aviator watches and how to distinguish the precious Russian models from the others.
✚ Pilot's Watches: Origin and History
To get to the origins of Aviator watches, we have to go back to 2000, when several former workers from Poljot (the first watchmaker in Moscow) joined forces to create Volmax.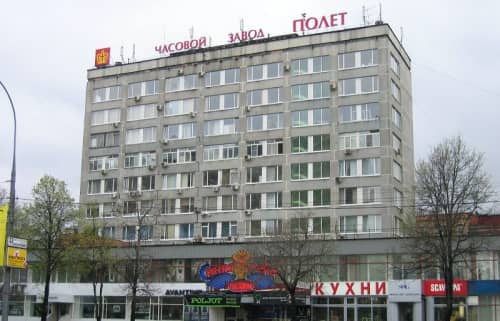 Their idea is to revitalize the Russian watch industry and for this they register some of the most famous watch brands in the country like Buran, Sturmanskie and Aviator.
A Poljot Sturmanskie, for example, was the watch that Yuri Gagarin wore during man's first voyage into space on April 12, 1961.
Pilot's watches (Авиатор, in Russian for "the aviator") are inspired by the history of Russian and Soviet military aviation, which is notorious in their designs and promotions.
For example, since 2008, they have been the official watches of the Russian Aerobatic Flight Team (SWIFTS) and its skilled pilots who fly the famous MiG 29 Fulcrum.
Volmax is based in Moscow and still uses some of the facilities of the defunct Poljot, although there are also subsidiaries outside of Russia.
In fact, in 2011 they transferred part of the aviator production to their Buren subsidiary in Porrentruy (Switzerland), so it can be said that some models are partly Swiss.
Currently, Volmax also permits the use of the Aviator and Sturmanskie brands for Scorpio Distributors Ltd. Company whose watches are not manufactured by the Russian company despite using their brands.
These watches are sold on airplanes and airports at a fraction of the price of the originals, but they are usually not of the same quality so it is convenient to know how to distinguish them.
✚ Are Aviator Brand Watches Any Good?
In general, the Aviator branded watches manufactured by Volmax are mechanical constructions made in Russia or Switzerland under strict Western quality controls and with local components.
For this reason, it is not uncommon to find Aviator watches with ETA Swiss mechanical movements, although they can also be as expensive as a good Swiss watch.
Those from other authorized companies like Scorpio Distributors Ltd. however, the aviators manufactured are cheaper models aimed at a less demanding market like the duty-free airport.
They are generally much cheaper quartz watches of dubious origin (possibly made in China), although the Aviator brand is printed and even has a similar design.
Below is a first mechanical Volmax model from Russia and then a quartz model that may have been made by Scorpio:
This does not mean that they are fake as they have an official license from Volmax themselves but not from their workshops they come from and they do not use the same quality components.
In this case, it doesn't have to be bad watches either, some even have Japanese Miyota movements inside, but the chances of getting a low-quality model are greater.
✚ How do you distinguish the best Aviator watches?
Fortunately, there are small differences between the watches made by Volmax and those supplied by Scorpio that allow us to distinguish which are the best Aviator watches.
The first big difference besides the price is that the Aviators made in Russia and Switzerland are usually mechanical watches, most of them hand-wound, although there are some automatic watches as well.
Although the final difference for distinguishing is on the dial, the Russians and Swiss usually wear an inscription at 6 o'clock with their place of origin.
Those that were made in Russia are marked with a "Made in Russia" (like the watch in the picture) in English or Russian (сделано в России), while the Swiss are always marked with the classic "Swiss made".
On the other hand, those made by the Scorpio Company or some other authorized company simply do not have an inscription, possibly because they are not interested in highlighting where they are made.
Below are some examples for each type where the differences can be clearly distinguished:
➤ Relojes Aviator Volmax
This first example is clearly a Russian-made watch that may target your market as the logo is written in Russian (Авиатор) as well as the phrase "made in Russia" (сделано в России) in their language are.
Like many other original Volmax designs, it is a manually wound watch. This means that it is loaded manually by turning the crown rather than moving your wrist.
Instead of the classic "made in Russia", they can simply have the word "Russia" next to the number of jewels that the mechanism uses.
As with this mechanical design (25 jewels – Russia), it is also wound manually but has the added complication of a chronograph with a tachymeter.
Also made in Russia, but in this case with the phrase "Made in Russia" at 6 o'clock, a clear indicator of its origin.
In this case it is a special edition, also with a wind-up chronograph, but with horizontal pushbuttons. A rare design that also includes sapphire crystal.
➤ Relojes Aviator no Volmax
It is obvious that it is not a Russian watch as it does not indicate its origin anywhere, although the logo is very similar and is also officially licensed.
It even has a chronograph, but still uses a much cheaper quartz movement than its Russian brothers.
There are innumerable designs with and without chronographs like this one, but as you can see they all use quartz movements and none shows the country of origin.
Some like this model even have a perfectly functioning rotating bezel in a steel case with mineral glass, but you can't expect the quality of a watch made in Russia or Switzerland.
✚ Prices and opinions
Original Volmax watches from Russia and Switzerland are much more expensive than the designs of other companies like Scorpio.
Although the latter aren't particularly cheap for what they offer, especially given the fact that there are authentic Russian watches like the Vostok Amphibia that have the same or lesser value.
In any case, it is clear that authentic Russian watches are much more collectible and it is worth paying a little more to get this little piece of watch history.
Last update of the links and pictures on 2021-02-04. Prices and availability may differ from the prices published on Amazon.